Community Supported Agriculture (CSA) Share
Announcing our Dairy Delights CSA for the 2024 Season
--
Sign up by May 15th of each year (click on the one that works best for you to sign up NOW!)
$900 FULL SEASON  Family Share
$450 FULL SEASON Single Share
$300 SUMMER Family Share
$150  SUMMER Single Share
Full share provides Approximately $30/week of Dairy Delights deliciousness (Single share is approximately $15/week) — includes all Yogurt, Kefir, Gelato, cheesecake, Fudge and chèvre — AND our "Not Too Sweet Treats" -- and it all comes at 10% off retail price for CSA Members only!
Summer share has the same great discount for June through August.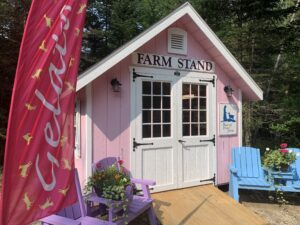 You pick when to use your CSA credit. Choose from what is stocked in the Farmstand which is open 24/7 year round -- Pre-orders always welcome!
For the Full Season Shares ONLY -- You may also choose to ship selections -- $6 packaging fee and shipping charges will be added and deducted from CSA credit.
SUMMER SHARE: PICKUP 6/1 - 9/21 ON-FARM PICKUP ONLY